Bathroom Renovations
Our Ottawa bathroom renovation experts specialize in creating the new bathroom you've been dreaming about


Ottawa Renovations

Experts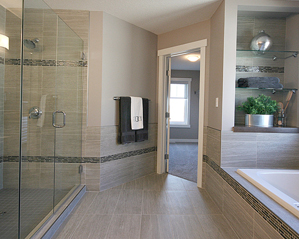 Looking for an expert to perform your bathroom renovations in Ottawa? Does your house need some major (or minor!) improvements? Need an expert to complete your projects? You have come to the right place! We are the Ottawa renovations experts that you have been searching for.
Your Reno Guys is your one-stop-shop for all of your home upgrading needs. We take care of your entire renovation project, from top to bottom. Whether you need a kitchen and bathroom renovation combination, a mancave conversion for your basement, or a face lift for one of your rooms, we can handle any task, big or small, for your renovation in Greater Ottawa.
Bathroom renovations, basement upgrades, and kitchen renovations can add significant value to your house and improve your quality of life. Therefore, you need to be sure that you are putting your time, money, and faith, in a contractor who is going to realize your vision on budget and on time, without sacrificing quality or service.
Bathroom Renovations in Ottawa
We work together with you to ensure that you are informed every step of the way. Building a team atmosphere and partnership with our clients keeps the dialogue going throughout the entire renovation process. Whether we are working on small bathroom renovations in Ottawa, or large jobs in other parts of the National Capital Region, we do our best to plan and prepare for any and all situations that might arise. For all of the Ottawa renovations projects we undertake, we believe in the importance of good communication and teamwork. We treat every project with as much attention to detail and communication as the next, and most importantly, we ensure that you are part of it every step of the way.
Your Reno Guys prides itself on having a high referral rate. Our clients regularly return for help with new bathroom renovations in Ottawa, and all other home renovation projects including kitchens and basements. We give you peace of mind that you are investing your faith, time and money with the right contractor through our open and honest communications, our passion for the industry, and our integrity. It is through the positive relationships that we build with our clients that allow us to consistently exceed expectations.
No Dream too Big, No Project too Small. We are the leaders in quality in basement, bathroom, and kitchen renovations!