Wheelchair showers, sometimes called "handicap showers" and fully accessible showers are our specialty!
When it comes to wheelchair accessible showers, you need to know you're hiring a contractor that you can trust. Your Reno Guys has over 20 years of bathroom restorations experience in the Ottawa area and are fully insured, trusted professionals in renovation services.
We also offer installation of custom "handicap showers" and wheelchair showers.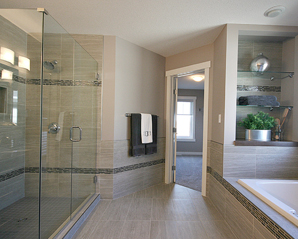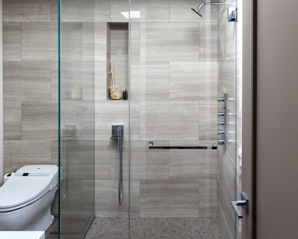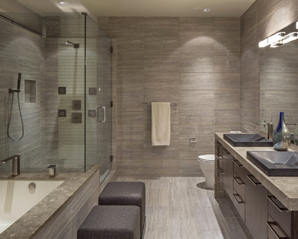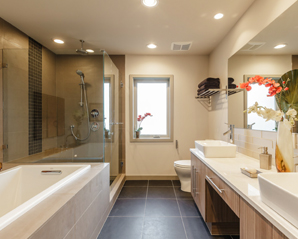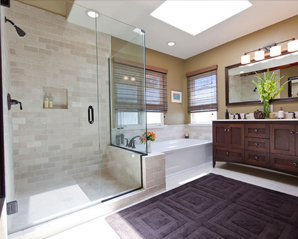 Wheelchair and Accessible

Showers
First and foremost, we understand that the use of the word handicap is not generally viewed as being politically correct and we don't like using it either. However, in order for people to know that we offer bathroom modernization with accessibility features for people with disabilities and be able to find us online, we have to use the "h" word.
If you need a custom walk-in shower, look no further. We understand the need for accessibility and comfort when it comes to bathroom reconstruction that are designed for individuals with physical challenges.
We specialize in the installation of handicap showers, wheelchair-accessible showers, and curbless shower systems designed for those who require easier mobility.
In choosing Your Reno Guys to look after your bathroom modernization project – big, or small – you are assured that your home, your needs, your budget, and your vision are all being respected and met.
The core of the home-renovation business lies in customer referrals and our success has been built on our reputation for high quality workmanship, service, and communication. We understand that home is where the heart is, and we take your needs seriously!
Quality Bathroom

Restorations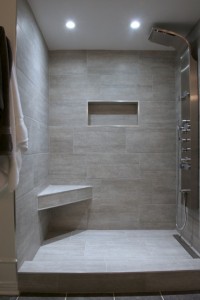 Just like on popular home TV shows, we use Schluter-Systems' products in all our bathroom projects, which means our work is built to last, and is backed by a full warranty. We use KERDI products on the walls of bathtub and shower surrounds, and the DITRA uncoupling membrane on bathroom floors to prevent cracked tiles and grout.
We stand by and support Schluter-Systems as the leader in waterproofing products. Plus, by using Schluter products, your renovation work is under warranty for up to 10 years!
Furthermore, our staff regularly attends conferences and seminars throughout Canada and the United States in order to stay up to date on the latest technology. This ensures that you will always receive the best, most current products available to you.
Our two decades of experience successfully serving the Ottawa community speaks volumes about the quality and professionalism of our company. Our clients are always impressed with how quickly our work is done while retaining the highest quality possible and ensuring that projects don't get in the way of normal life.
We also continue to communicate with you through every stage of the renovation process, we complete the task exactly as discussed, and we clean up everything when the project is finished.
Your Reno Guys is dedicated to your satisfaction for your dream bathroom. Whether it is a cosmetic change, total bathroom revamping, or the installation of custom handicap showers or wheelchair showers, we guarantee the quality, timely workmanship that you require!
To get your free, no obligation quote, call us or leave the details of your project with us here and we will get back to you within the next business day.
Customer Reviews

Very Reliable, Courteous and Perfectionist!
"John from Your Reno Guys Inc. is very reliable, courteous and a perfectionist. He showed up when he said he would, answered all my questions and did a great job on my bathroom renovation. The job was done on time and within budget"
 
Rating: 10/10
Marc Q – Bathroom renovations in Ottawa