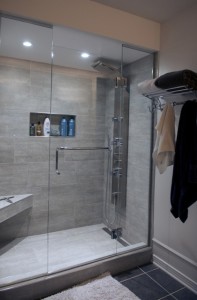 Whether we are working on a bathroom, basement, or kitchen renovation, big or small – we stand behind our work.
In choosing Your Reno Guys to look after your home renovation, you are assured that your house, your needs, your budget, and your vision are all being respected and met.
As with all the work we perform, Your Reno Guys guarantees all of our workmanship for one full year. Moreover, we stay up to date with all of the state of the art methods of the industry, and are current with state of the art products and materials. Trained and certified in Schluter systems, not only do you have peace of mind with our one-year workmanship guarantee, but the Schluter company alone administers a full 10 year guarantee on all of their products, so you are doubly covered! Needless to say, we proudly stand by our work, and our product. And before we complete your renovation, we always ensure that you are 110% satisfied.
In many instances, we have existing clients that contact us for miscellaneous renovation advice or ask us to take a look at issues unrelated to random items in their homes, completely unrelated to the work we performed, and we welcome and encourage this dialogue. Our mandate is to build a relationship, friendship, and trust with our clients. We not only want to do a great job on your home renovation project, we would also like to be a part of any future projects that you, your family, or your friends are looking to complete! Your satisfaction is crucial to our success. That is why we want you to call Your Reno Guys!