Is there anything more exciting than planning great kitchen renovations as soon as spring arrives? It seems that as nature comes back to life, it sparks our desire to make our living spaces as beautiful and as shiny as we want our own life to be in this new year ahead!
Of course, let's not forget bathroom renovations. When done correctly, they can make us want to spend more time soaking in our new, more polished tub, scrubbing the winter away.
It all comes back to shine, doesn't it?
Most homeowners or landlords are aware that well-executed renovations are a sure way to increase the value of their home (or increase the amount of rent they can charge a tenant).
Renovation experts and designers are often called upon to advise homeowners on how to make their kitchen more functional and conducive to food preparation and entertaining.
When it comes to kitchen renovations, builders very often advise homeowners to prioritize the proximity of the refrigerator, the sink and the stove. Ideally, those three elements should form an invisible triangle for a truly professional-grade kitchen.
However, if you are in the market for kitchen and bathroom renovations, you don't always have to go as far as modifying the floor plan to get an updated look.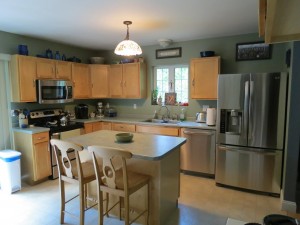 Indeed, one way to increase the appeal of your kitchen this year would be to give it a radically new coat of colour. Did you know that light grey is increasingly becoming a kitchen colour of choice with designers?
Furthermore, an exciting advance in design today is the introduction of sinks (yes sinks!) that now come in a variety of colours. This is surely more than a trend, and consumers will most likely begin to purchase sinks in their favourite colour this year. Now wouldn't that give a touch of colour to light grey walls?
Of course, an even simpler way to kick-start your new project is to change the lighting fixtures in the space you are planning to renovate. Most homeowners who undertake kitchen renovations always include recessed lighting as a must-have on their list.
While there are lots of tutorials available on-line on how to install recessed lighting, it is always much safer to have the work done by professional contractors who will be able to provide you with the best results in the industry, and with fewer headaches!
What about you? How are you planning to kick-start your home renovations?